Quang Ngai, Vietnam (CNN)
-- Nestled in the mountain foothills of a remote province in central Vietnam, one of the country's most important archaeological discoveries in a century has recently come to light.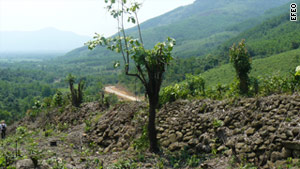 It's not on the same scale of China's Great Wall but is still significant for Vietnam's past and future.
The Long Wall -- the longest monument in Southeast Asia -- could become a major tourist attraction.
Andrew Hardy (center) and Nguyen Tien Dong (left) led the team that uncovered the wall in central Vietnam.
After five years of exploration and excavation, a team of archaeologists has uncovered a 127-kilometer (79-mile) wall -- which locals have called "Vietnam's Great Wall."
Professor Phan Huy L